Welcome to Monster Rancher Wiki!
This is a collaborative community wiki about the Monster Rancher franchise - maintained by fans.
Featured Character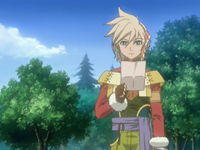 Julio
Julio is in charge of training the monsters in the circus. His dream is to someday become a professional monster breeder.
Featured Monster
Draco Moch
The Draco Moch firmly believes it'll be able to fly someday like a
Dragon
. That's why it's always practicing. Do you think it'll really be able to fly?
About Monster Rancher
Monster Rancher, known in Japan as Monster Farm, is a series of life simulation role-playing video games created by Tecmo (now Tecmo Koei). The series currently consists of fourteen games across different video game platforms, and future titles are planned. In addition, the series has been adapted into an anime.